Top 12 Best Special Abilities/Super Powers in Young Adult Books
Super abilities are one of the most effective ways to spice up characters, stories, and world building. This is a list of my top 12 most favorite superpowers from young adult books. That could be because of either the strength, potential, uniqueness or general appeal-ness of the power.
#12:
Katsa - Graceling series by Kristin Cashore
Ability: Survival
At the beginning of the book, Katsa's grace was recognized as "death". This is due to her apparent ability to be able to kill anyone with anything in any situation. Because of this "grace", she was used and manipulated by his uncle, the king, to be his own personal weapon to terrify his subjects and finish off his dirty desires.
The reason Katsa is on this list is because of the unique nature of her abilities. The ability to basically beat anyone in physical combat and kill anyone in any situation is never unusual in fictional works, but I remember being really impressed by the twist of how the nature of her power not being dead, but actually survival. It was one of the most creative and well-done twists to such a simple and commonly used idea that I have ever seen, which is why she is on this list.
#11: Meghan -
The Iron Fey series by Julie Kaawa
Meghan's ability is very simple, but that's exactly why it's so powerful. The power itself has the disadvantage of having a very obvious weakness, but despite that, in a world where iron is literally everywhere, this ability has extremely dangerous potential.
"Simple is the most beautiful", isn't it? The simplest things are often the most powerful because that also meant how it has a broader range with fewer limitations - perfect for a superpower.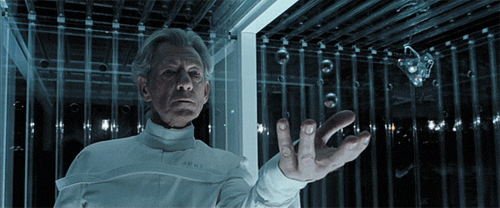 #10:
Reyna Ramírez-Arellano - The Heroes of
Olympus series by Rick Riordan
Ability: Manipulation of large crowds
Especially when compared to the vast variety of superpower abilities we've seen throughout fictional works, Reyna's is not...very physically useful. However, her abilities as the daughter of Bellona is extremely unique and useful especially in her position as a leader. Her ability to manipulate large groups of people allows her to be an excellent commander and chief and definitely contributed to her high-level of bad-ass-ness. In states of panic and disarray, her ability to calm, unite, and even motivate crowds is extremely useful.
#9:
Carter and Sadie - Kane Chronicles
by Rick Riordan
Ability: Egyptian magic
Carter and Sadie - being the main characters of the world of Kane Chronicles - are "special" thanks to the special combination of their "royal bloodlines" from both their parents (I can't elaborate because it's falling under spoilers territory).
What makes Carter and Sadie's unique is the fact that they are the physical hosts of gods. This means that they get access to the gods' powers (while cooperating with them), allowing them to do some pretty amazing things. Combine that with the cool magic "spells" from Egyptian hieroglyphics? Total badassery.
#8:
Nico di Angelo - Percy Jackson and
the Olympians by Rick Riordan
Ability: Summon and manipulation of the dead
Nico di Angelo is one of the few children alive right now that is a child of the "big three" - Zeus, Poseidon, and Hades - meant that is also one of the most powerful demigods alive. Nico can summon the dead anywhere at any time and he can command the dead to do whatever he wants. However, he's not completely overpowered, and this power does take a great toll on him after extensive use. He's seen to just go to sleep after using his powers, leaving him completely vulnerable. But it can't be denied how much potential he has, which is why he's on this list.
#7:
Percy Jackson - Percy Jackson and the
Olympians by Rick Riordan
Ability: water control
In my personal opinion, one of the most powerful types of supernatural ability is the ability to manipulate the earth's elements. This is due to how easily accessible it is and how the generalized nature of these kinds of abilities gave it a wider range of use and fewer limitations. Anyone who knows anything about the PJ series knows that Percy is arguably the most powerful demigod in the entire series. To give you an idea - just use your imagination. From hurricanes to manipulating the water in our bodies' system, this guy can do it all.
#6:
Juliette - Shatter Me by Tahereh Mafi
Ability: Lethal touch, super strength, invulnerability
Juliette is literally completely overpowered - full anime style. Like, her superpower started off as lethal touch and then somehow managed to spiral into superstrength...like, are you kidding me. She is so broken - she's completely invulnerable and overpowered with practically no weakness, that's not good writing.
But at the end of the day, overpowered still means damn right powerful, so here Juliette is, on this list, despite how broken she is.
#5:
Bella Swan - Twilight by Stephenie Meyer
Ability: Mental shield
Okay, I fricking love this power. This power is so useful and actually pretty unique. Its concept is simple - immunity to other powers, the ultimate defense power. But the fact that it's actually like an imaginated "shield" and how that can be manipulated based on the user's imaginations made it EXTREMELY powerful because of how now that can be used to shield other people.
#4:
Renesmee Cullen - Twilight by Stephenie Meyer
Ability: Tactile through projection and shield penetration
What is really interesting about Renesmee's powers is that her powers are both kind of "opposites" of her parents' powers. She can penetrate people's mental shields (opposite of her mother's) and she needs to do it by touching someone (opposite of her father's because Edward doesn't need to touch anyone to read minds).
#3.
Rhysand - A Court of Thorns and Roses
by Sarah J. Maas
Ability: Darkness manipulation, winnowing, Daemati powers, glamouring, flight via wings, misting, and (so many) more.
The difference between Rhysand's "overpowered-ness" and Juliette's "overpowered-ness" is that Juliette's is really illogical and feels like it came out of nowhere. But Rhysand's actually make sense (which I would not elaborate due to spoilers). All I would say is no one (and I mean no one) can compete with Rhysand when it comes to power and strength in the ACoTaR universe. That's how powerful he is.
#2.
Chelsea - Twilight by Stephenie Meyer
Ability: Relationship manipulation
It was such a shame that this ability wasn't included in the movie. It was a really important ability to the story too - it was thanks to Chelsea's ability that the Volturi is able to stay so united. There's a whole manipulation cycle going on (which if you want to know it's summarized really well in the Twilight Saga Wiki website) that is pretty impressive and complicated. Chelse's "relationship manipulation" gave her the ability to mess with people's relationship and bonds.
However, her powers do have weaknesses. It cannot as easily influence the ties of people that are stronger, such as love or truly deep friendships.
By influencing emotional ties between individuals, she can enforce loyalty, break ties to get people to betray, which is extremely dangerous but also impressively unique. I personally found her powers fascinating.
#1.
Alina and the Darkling - The Grisha Trilogy
by Leigh Bardugo
Alina's Ability: Sun Summoner
The Darkling's Ability: Shadow Summoner
Alina and the Darkling - two sides of the same coin. The true beauty of their powers is not just the powerful nature of it, it's the symbolic meanings behind their power that made these abilities so beautiful. IThe way these powers - and their characters in the story respectively - reflect off each other so perfectly through these powers is so satisfying.
Aside from that, another reason why I love their powers is because of how the ability to control light and darkness in the world of Shadow and Bone is just really cool.